There's no denying that New York City has earned its place as a top vacation destination. But what if you were told that New York's Hudson Valley offers many of the same attractions as New York City, plus some of the most beautiful scenery in the world?
In fact, the Hudson Valley is so beautiful that it inspired an entire school of painting: the Hudson River School of the mid-19th century.
Indeed, the Hudson has its share of museums and galleries but is also a haven for hikers, history buffs, music lovers, foodies, and beer and wine enthusiasts. The following is a guide to help readers create an itinerary bound to please everyone on your trip.
(Note: the Hudson Valley spans approximately 150 miles, so depending on the length of your trip as well as your energy level, you may need to visit the region one county at a time. We've listed the counties in order of their closeness to the Baltimore metropolitan area.)
Westchester County
Hudson River Museum
Located in Yonkers, New York, right on the banks of the Hudson River, this museum will likely be one of the first stops on your Hudson Valley tour. The museum features Hudson River-centric exhibitions such as paintings by Hudson River School landscape painters as well as contemporary art installations of all sorts. Currently, the museum hosts "Frida's World" an exhibition inspired by the life and work of icon Frida Kahlo. HRM is also home to the Andrus Planetarium. hrm.org
Rockefeller State Preserve
This beautifully maintained state park in Pleasantville, New York, includes carriage trails that were originally created for John D. Rockefeller. Spanning 45 miles, the park has trails to accommodate hikers of all different levels. Hikers will pass pastures, meadows and the peaceful Swan Lake. In addition to hiking, the park is also ideal for bird watching, fishing, picnicking, horseback riding and carriage driving. In the winter months, there are hills for sledding, snowshoe trails, and cross-country skiing. parks.ny.gov/PARKS/59
Katonah Museum of Art
The museum, located in the hamlet of Katonah, New York, features art from all cultures and time periods. The Pollack Family Learning Center offers hands-on activities for children and families. katonahmuseum.org
Caramoor Center for the Arts
Also located in Katonah, Caramoor offers top-notch musical performances, children's programs, lovely gardens and grounds, and tours of the historic Lucie and Walter Rosen House. caramoor.org
Lyndhurst Mansion
Folks of a certain age will have seen the exterior of Lyndhurst Mansion in two early Dark Shadows movies, "House of Dark Shadows" (1970) and "Night of Dark Shadows" (1971). Set on the banks of the Hudson River in Tarrytown, New York, Lyndhurst offers the Classic Mansion Tour of the Gothic Revival-style mansion's first and second floors and includes entry to occasional special exhibitions. You can also take a guided or self-guided tour of the grounds. lyndhurst.org
Washington Irving's Sunnyside
Irvington, New York, was the home of American author Washington Irving, famous for the classic short stories "Rip Van Winkle" and "The Headless Horseman." Tours of his estate are available. visitsleepyhollow.com
Rockland County
Edward Hopper House Museum and Study Center
A visit to Nyack, New York, should include a tour of this historic landmark, the birthplace and boyhood home of American artist Edward Hopper. The museum hosts changing exhibitions, concerts, art talks and other programs. edwardhopperhouse.org
Amazing Grace Circus
Based in Nyack, this nonprofit circus arts organization offers classes and performances. Currently, Amazing Grace is presenting "Circus Ta Da!," a 90-minute circus, theater and dance production about the history of circus in the Hudson Valley. The show will take place under the "big top" just like in olden days. amazinggracecircus.org
Children's Shakespeare Theatre
Kids are the audience for this theater company where the actors are children and teens ages 8 to 18. The company performs in venues all over Rockland County. childrensshakespeare.org
Nyack
Nyack on the Hudson River is a good spot for restaurants, and shopping. There are antique shops as well as clothing and jewelry stores. The town has an artsy, hippie vibe. visitnyack.org/
Orange County
U.S. Military Academy at West Point
Members of the general public are welcome to take a bus tour of historic West Point and can also visit the West Point Museum. West Point also holds concerts and sporting events. Check the website to make sure you have proper ID. westpoint.edu
Storm King Art Center
This 500-acre outdoor sculpture garden in New Windsor, New York, features works by Alexander Calder, Roy Lichtenstein and Henry Moore. Walking and tram tours are available. stormking.org
Woodbury Common Premium Outlets
Shoppers seeking designer goods at outlet prices will have a field day at Central Valley New York's Woodbury Commons, which has the largest collection of designer outlet stores in the world. Stores include Versace, Saint Lauren, Alexander McQueen, Armani, Brooks Brothers and more. (P.S., you will also find typical outlet stores like Forever 21, Ann Taylor and Banana Republic factory stores. premiumoutlets.com/outlet/woodbury-common
Putnam County
Boscobel House and Gardens
This 19th century Georgian mansion in Garrison, New York, is home to one of the finest collections of decorative arts and furniture from the federal period. The historic site also has gardens, orchards, and cultural events. boscobel.org
Tompkins Corners Cultural Center
Situated in a carriage house that was once adjacent to the oldest Methodist Church in New York state, Tompkins Corners offers musical and theatrical performances, film screenings, a farmers market and all sorts of special events. tompkinscorners.org
Manitoga: the Russell Wright Design Center
Manitoga, in Garrison, New York, was the home of famed industrial designer Russell Wright. Set on 75 acres of woodland gardens, the national historic landmark is woodland garden of American industrial designer Russel Wright (1904-1976). Manitoga is "one of the few 20th century modern homes with original landscape open to the public." visitmanitoga.org
Cold Spring
Any visit to Putnam County should include a trip to Cold Spring, New York. The quaint, scenic village on the Hudson River has restaurants, bars, and the antique stores galore. It's also a great starting point for a hike. coldspringliving.com
Dutchess County
Dia Beacon
Built in an old Nabisco box-printing factory, Dia Beacon in Beacon, New York, exhibits contemporary art from the 1960s the present. Beacon is also a fun town where you can eat and shop. diaart.org
Culinary Institute of America
You may have heard of CIA, the Culinary Institute of America. Located in Hyde Park, New York, right on the Hudson River, CIA is one of the top cooking colleges in the country. If you're just visiting, you can catch a cooking class at one of CIA's boot camps. If you're there on a weekend, you may also be able to get a reservation at one of the campus's five restaurants where CIA faculty and students prepare gourmet meals. ciafoodies.com
Rhinebeck
Rhinebeck is a charming village and a great destination for those who enjoy upscale independently owned stores and a variety of dining options. enjoyrhinebeck.com
Innisfree Gardens
Located in Millbrook, New York, Innisfree is a uniquely beautiful and serene place to appreciate the natural world. Developed between the 1930s and 1990s, the 185-acre property was once the home of artist and teacher Walter Beck and his wife, gardener and heiress Marion Burt Beck. The Becks were fascinated by Asian art and their gardens reflect an Asian sensibility. No trip to Dutchess County would be complete without a visit to this spectacular landmark. Innisfree.org
Franklin Delano Roosevelt Museum and Library
Hyde Park is the site of FDR's childhood home and his museum and library. Tour the home and learn all about Franklin and Eleanor Roosevelt; stroll more than 1,000 acres of trails and gardens that overlook the Hudson River; and visit exhibits in the onsite museum. fdrlibrary.org
Vanderbilt Mansion
Just down the road from FDR's mansion, is the Vanderbilt Mansion, the summer home of Frederick Vanderbilt. The home, built over three years in Beaux-Arts style, was constructed in the late 1800s and was meant as a place for entertaining wealthy friends and associates. Tours of the house are available, or you can just enjoy walking around the site's 200 acres of gardens and paths. nps.gov/vama/index.htm
Dutchess Wine Trail
Wine lovers can get their fill of Hudson Valley wines and the area's natural beauty on the Dutchess County Wine Trail. The trail (done by car) takes you to three local wineries including Clinton Vineyards, Milea Estate Vineyard and Millbrook Vineyards & Winery. On the way you'll see farms, orchards, lakes, streams, orchards and vineyards. dutchesswinetrail.com
Ulster County
Woodstock
Though Woodstock is known for the 1969 music and art festival by the same name, the iconic event was actually held in Bethel, New York, about 60 miles away. Still, being in Woodstock offers a distinct hippie vibe that reflects the town's history as an artists' colony and home to many of the Hudson rivers school painters. The Woodstock Guild holds concerts, dance and theatrical performances. It's a great town for window shopping, dining and taking in some natural beauty. tripsavvy.com/top-things-to-do-woodstock-new-york-4171793
Mohonk Mountain House
There's no way around it, the Mohawk Mountain House resort is awfully expensive. If you're in for a super luxurious vacation and money is no object, this is the place to stay. No matter what season you're traveling, you'll find outdoor and indoor pleasures such as hiking, boating, swimming, tennis, horseback riding, cross-country skiing, ice skating and more. Additionally, you can enjoy spa services and a range of dining options. Plus, you can't beat the spectacular views. mohonkmountainhouse.com
Mohonk Preserve
Set in New Paltz, New York, Mohonk Preserve is the largest private nature preserve in the state. It encompasses and protects 8,000 acres of the Shawangunk Ridge. Visitors can hike, climb, bike, ski, ride horses and more. mohonkpreserve.org
 Gomez Mill House
This historic home is the oldest standing Jewish dwelling in North America. It was purchased along with 1,200 acres of land with river access by New York City Jewish community leader Luis Moses Gomez in 1716. With the help of his two sons, Gomez continued to prosper, buying more land and establishing one of the men Hudson Valley's first commercial businesses — operating mills and lime kilns and shipping the materials they made from them to the city. Relatives formed the Gomez foundation for Mill House in 1979 and in 1995, the foundation established a public program series. gomez.org
Columbia County
Olana State Historic Park
Olana, the home of Hudson River School founder Frederic Edwin Church is considered the artist's "greatest masterpiece." Including Church's home, studio and the property's designed landscape, Olana was conceived as a "holistic environment" that integrated his ideas about art, architecture, landscape design, and environmental conservation. The Persian-style house offers glorious panoramic views of the Hudson Valley and Catskill Mountains. Tours of the grounds and house are available Fridays through Sundays. olana.org
Hudson
Hudson has become one of the hippest destinations in the Hudson Valley. Here you will find antique stores, restaurants, bars and music venues as well as many weekend visitors from New York City. visithudsonnewyork.com
Basilica Hudson Arts Center
Based in a renovated, solar powered 19th-century factory in Hudson, Basilica Hudson's environmentally responsible arts and culture center has concerts, films, artist talks as well as farmers and flea markets. basilicahudson.org
Green County
Mountain Top Arboretum
A public garden on 175 acres in Haines Falls, New York, the arboretum offers breathtaking views of the Catskill Mountains; wetlands, meadows and forests. It's an ideal destination for birdwatchers, bikers, hikers. In the winter season, the Arboretum is a great spot for snowshoeing. mtarboretum.org
Hunter Mountain
Known for downhill skiing, Hunter Mountain also offers year-round activities, including the longest and highest zipline in North America. In the summer and fall, you can take the Hunter Mountain Scenic Skyride, which climbs 3,200 feet to the mountain's summit and provides views of New York's Catskill Mountains, the Berkshire Mountains of Massachusetts and the Green Mountains of Vermont. onthesnow.com
Kaaterskill Falls
The highest cascading waterfall in New York state, Kaaterskill Falls is a popular place for hiking as well as the subject of one of Thomas Cole's most famous paintings. The falls are a sacred place for the Mohican Native Americans of the Catskills, who believe it is the resting place of "the creator." hikethehudsonvalley.com
Wyndham Mountain
This well-known ski resort has become a year-round destination offering a golf course, mountain bike and tubing parks. wyndhammountain.com
Rensselaer County
Bennington Battlefield
Students of the Revolutionary War will appreciate a visit to the site of the Battle of Bennington outside ofWalloomsac, New York. The American Battlefield Trust and has been able to preserve 276 acres of the battlefield. The site includes walking trails and a visitors' center. parks.ny.gov/historic-sites
Albany Avenue Historic District
A national historic district, Albany Avenue is located in Nassau, New York. The district includes 10 historic buildings that date from circa 1800-1920. There are seven Federal-style homes, two early 20th century residences and one Greek revival building. The area is listed on the National Register of Historic Places. placeandsee.com/albany-avenue-historic-district
Albany County
New York State Museum
Albany County includes Albany, the state capital. The museum tells the story of the state through art, history and science exhibitions. It is the oldest and largest state museum in the country. nysm.nysed.gov
Palace Theatre
Home to the Albany Symphony Orchestra, the Palace Theatre also offers rock concerts, ballet performances, and a classic Hollywood film series. palacealbany.org
Egg at the Empire State Plaza
The egg is not only a space for performances and special events, but also an important architectural work. Designed by Wallace Harrison, it took a dozen years to build the egg, which is named because of its egg-like appearance. theegg.org
This curated list presents just a sampling of what the Hudson Valley has to offer visitors. For more information, visit travelhudsonvalley.com
You May Also Like Barcelona gets World's First Michelin-Starred Kosher Restaurant amid Push to Draw Jewish Tourists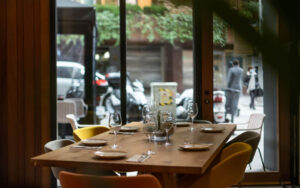 The only Michelin-starred kosher restaurant in the world, Xerta pursued kosher certification largely to attract Barcelona's rising numbers of Jewish visitors.
The Travel Issue 2022: Peak Season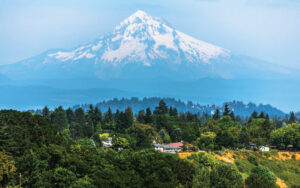 Jmore's 2022 "Travel Issue" brims with destinations near and far.
A Daytrip or Weekend Getaway to the Easton-Oxford Area is Well Worth Your While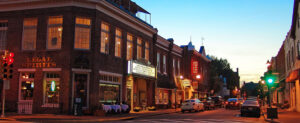 Both Easton and Oxford — which are a little more than an hour's drive from Baltimore — offer a chance to enjoy the tranquility and charms of the Eastern Shore.
A Passion for Portland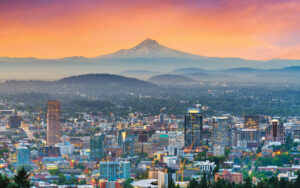 It's been two years since Carol Sorgen moved from Baltimore to Portland, Ore. She shares her suggestions of must-sees if you're ever headed out this way.
The post New York's Hudson Valley Features a Dazzling Array of Shops, Galleries and Landscapes appeared first on marylanddigest.com.