By Milton Kline
Rabbi Jacob S. Green, who died last month at the age of almost 98, was my first rabbi while he was serving the old Har Zion Synagogue on North Avenue in West Baltimore.
My first meeting with the rabbi was a day after my mother died, when I was 11 years old. My mother died suddenly at the age of 33. Ironically, the first day of my saying Kaddish for my mother was Rabbi Green's first day at Har Zion.
At the end of the morning service, the rabbi beckoned me to come over. He asked if I would sit and pray with him each morning. I was stunned and intimidated, for the rabbi was well over six feet tall and very athletic.
So I did what most 11-year-olds would do — I sat in the rear of the shul as far from the rabbi as possible.
But as time went on, I began to see what a remarkable man Rabbi Green was, in terms of developing a rapport with the young people in our congregation. Here was this tall, dynamic man shooting marbles, enjoying punch ball or playing catch with us with a football or a softball. Wow! How impressive, because rabbis generally don't do things like that.
One day, Rabbi Green walked onto our playground and observed a group of boys playing football and interrupted their activity. He said, "Let me show you how to throw the football properly." The boys responded, "What do you know?" The rabbi proceeded to take off his jacket and tie, rolled up his sleeves, grabbed the football and directed the boys to run a variety of pass patterns. Every pass he threw was a perfect spiral and accurately to the receiver.
The students were stunned by the rabbi's ability. Rabbi Green then walked over to join a nearby punch ball game, where of course he once again excelled and won over the youth of the congregation.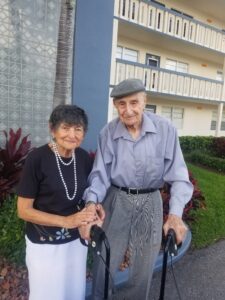 Flo and Rabbi Jacob S. Green (Photo courtesy of Milton Kline)
What all of us didn't know was that the rabbi was a basketball star at Yeshiva University in New York and was even offered a contract by the Brooklyn Dodgers to play in their farm system. Obviously it never materialized, for how could an Orthodox boy play professional baseball? His mom and dad were adamantly against the idea.
That first day I met Rabbi Green was the beginning of a wonderful 76-year relationship with this iconic spiritual leader, best known as the longtime beloved rabbi at the old Rogers Avenue Synagogue from 1951 to 1971. His death on June 17 also marked the end of his 75-year marriage to his beloved wife, Flo Green.
Like many people in this area, I have so many wonderful memories of Rabbi Green. One time, he gathered together all of the pre-bar mitzvah boys at Har Zion and made a deal with us. "Guys," he said, "if you come to synagogue on the Sabbath, you can play whatever sport is in season on Sundays." Well, I never missed a Shabbos service.
When my wife Judy and I moved to Florida for our annual winter escape, I made it a point to contact Rabbi Green. He not only remembered me but said, "You had dark brown hair, deep-set brown eyes and were so skinny, but I knew you would grow into your body. Oh, and your grandparents were the little people, and your grandfather always wore a fedora."
Pretty good memory for six decades ago.
Many of you who grew up in West Baltimore remember Easterwood Park and its activities there directed by legendary playground leader Irv Luckman. This is where we played softball on Sunday mornings. Irv once approached Rabbi Green and told him to vacate the field because Jack Pollack's Trenton Democratic Club would be playing there soon. The rabbi did not know of Jack Pollack, the political boss of Baltimore's powerful 4th legislative district, who put mayors, senators and even governors into power.
Well, the rabbi acquiesced and left the field begrudgingly. Several weeks later, an appreciative Pollack personally called Rabbi Green and suggested he leave the rabbinate, feeling he would make a fine senator.
Unreal! But fortunately, Rabbi Green remained in the pulpit, continuing to serve Har Zion and later the Rogers Avenue Synagogue.
As a group of naive, unsophisticated young boys, we always took Rabbi Green literally when he said that the Jews in pre-state Israel desperately needed money and weapons to create a Jewish state. So we went from door to door requesting donations of this type.
Our ambitious goals hit a snag when the police visited Rabbi Green's home and threatened to arrest him. But thankfully, this never happened.
For 18 winters in Florida, Judy and I always had lunch with the rabbi and Flo. We often looked back on more than 70 years of our history together without missing a beat. I remember Rabbi Green once saying, "Milton, all of your requests for help for our fellow Jews were delivered and sent to our people."
That was an amazing feeling.
One more memory. I mentioned that Rabbi Green was an outstanding athlete. He used to play basketball at the old YMHA on W. Monument Street. Prior to playing games, he often told his opponents, "I am not a rabbi when I play basketball." Yeah, he swung a few elbows.
When Judy and I visit Florida this winter, there will definitely be a void in our lives, since we will not be able to exchange stories and memories with Rabbi Green. But we feel so blessed that he and Flo were such an integral part of our lives.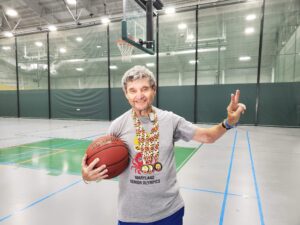 A retired teacher, camp director and coach, Milton Kline is an Elkridge resident who grew up in Northwest Baltimore's Forest Park neighborhood. He is also a Maryland Senior Olympics champion.
You May Also Like Elkridge Resident Milton Kline Discovers Far-Flung Family Members through Genealogical Research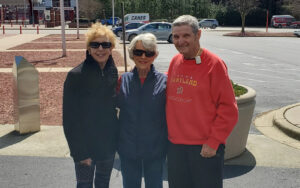 A retired teacher and camp director who grew up in Forest Park, Milton Kline, 86, says the creation of his family tree led to "lightning in a bottle."
Celebrate Feeling Confused in your Career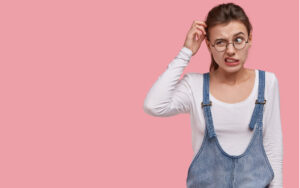 Confusion can feel uncomfortable and even scary. But if you are at a point in your career where you are feeling confused, that might actually be a good thing.
Back to the Future?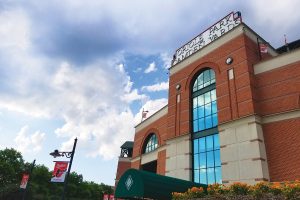 Michael Olesker wonders if there could be a return of 'The Oriole Way.'
Why We Mourn Jerusalem's Destruction on Tisha B'Av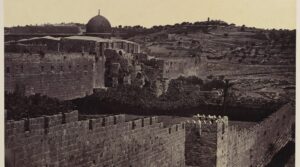 Jewish remembrance isn't only about recalling the past but also building the future, writes Rabbi Adina Lewittes. Tisha B'Av, the saddest day on the Jewish calendar, will be observed this weekend, Aug. 6-7.
The post Remembering Rabbi Jacob S. Green, of Blessed Memory appeared first on marylanddigest.com.