Israel Gruzin, a Holocaust survivor who became a respected and successful local artisan and custom cabinet maker, died on Sunday, July 24. The longtime Northwest Baltimore resident was 93.
Born in Slobodka, Lithuania, he was the eldest son of Chaim and Chiene Gruzin and had one brother, Icik. In 1941, the Gruzins fled Lithuania via horse and wagon for Latvia to escape the imminent Nazi invasion, but were forced to return to Slobodka due to a destroyed bridge. They were moved into the Kovno Ghetto and became forced laborers.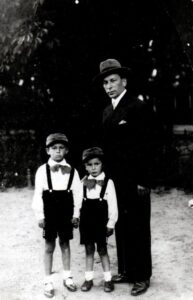 A young Israel Gruzin is shown here with his father Chaim and brother Icik. (Photo courtesy of Sol Levinson & Bros.)
In 1943, Gruzin and his family were taken to Stutthof Concentration Camp in Germany, and then he and his father and brother were taken to the Dachau concentration camp where they were forced to build barracks. In April of 1945, Gruzin and his father were forced to go on a death march to the Steinberg mountain region in Lower Bavaria. They were liberated during the march by U.S. troops on May 2, 1945.
"Thanks to the Americans, I'm alive," he said in a 1994 oral testimony with the U.S. Holocaust Memorial Museum.
Gruzin was sent to Föhrenwald, a displaced persons camp in Bavaria. Due to health complications in the concentration camps, both his mother and brother died shortly after the end of the war.
In Föhrenwald, Gruzin met his future wife, Adela Miller. They married in 1953 and immigrated to the United States two years later with their 18-month-old daughter, Jeannie. They resettled in the Baltimore area because Gruzin's uncle Solomon and cousin Edward lived here.
Shortly arriving in Baltimore, Gruzin — who since childhood excelled at working with his hands — was employed in the furniture making field and maintained a workshop adjacent to the old Pikesville Lumber Yard.
In 1985, he opened Gruzin's Custom Cabinets on Old Milford Mill Road, making handcrafted cabinets, dressers and tables. The business also made bimahs and arks for local synagogues such as Chizuk Amuno and Beth Tfiloh, the latter of which Gruzin was a longtime member.
Gruzin developed a reputation in the community as a master craftsman, and the family business has thrived for nearly four decades.
"If a man is measured by his good name, Israel Gruzin was a giant," his family posted on the website of Sol Levinson & Bros. funeral home. "He was known for his humility and his humanity. Israel loved life and loved people. And, people loved him back. He built a family life and business in Baltimore as a custom cabinet maker. A survivor of Dachau Concentration Camp, he understood the fragility and preciousness of every moment. May his memory blessing to all."
In the Memorial Book section of Levinson's website, Pikesville residents Bernard and Reva Suffel wrote, "Mr. Gruzin was a kind and very honest businessman. He was very artistic and talented in whatever he made for one's home. He provided us with many beautiful things many years ago that still, today, are enjoyed by its beauty."
Remembered Ron Eisenberg: "One evening in the early '70s, late at night on my way home, I saw smoke and thought to find where it was coming from. Turns out Gruzin Woodwork in the lumber yard near the railroad tracks on Milford Mill Road was burning. Since there were no cell phones, I drove to get Mr. Gruzin and took him back to watch his business burn to the ground. We stood on the train track and I asked him what was he going to do. Without hesitation he said he would find a space and equipment because he had orders and commitments to fulfill. He told me that compared to the horrors he had experienced in his earlier years, this fire was nothing. You move forward.
"That was Israel Gruzin. That conversation has had a huge impact on me in my life as Mr. Gruzin has had on so many others."
Gruzin participated in many local and national Holocaust remembrance vigils and activities, as well as oral testimonies about his wartime experiences.
"I enjoy the young generation's interest in the time I went through," he told the college publication Goucher Quarterly in 2010. "Sharing my memories keeps them alive."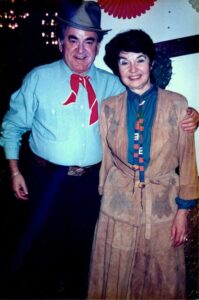 In an undated photo, Israel Gruzin is shown with his wife Adela. (Photo courtesy of Sol Levinson & Bros.)
Gruzin is survived by his wife Adela Gruzin (nee Miller); his children Jeannie Gruzin (Louis J.) Siegel, Jeff Gruzin and Kenny Gruzin; and his grandchildren Jonathan E. Siegel (Jessie L. Ullman), and Kevin J. Siegel. He was predeceased by his brother Icik Gruzin, his parents Chjene and Chaim Gruzin, and his cousins Edward Gruzin and Zachary Gruzin.
Services were held at Sol Levinson's Chapel, 8900 Reisterstown Rd. , on Wednesday, July 27. Interment at Arlington Chizuk Amuno Cemetery, 4450 N. Rogers Avenue.
Contributions in Gruzin's memory may be sent to Beth Tfiloh Congregation, 3300 Old Court Rd., Baltimore, Maryland 21208, or Hatzalah of Baltimore, 2930 Taney Rd., Baltimore, Maryland 21209, or BridgingLife Hospice, c/o BridgingLife Development Office, 200 Memorial Ave., Westminster, Maryland 21157.
You May Also Like Bruce R. Eicher, Longtime Beth El Organist, Dies at 90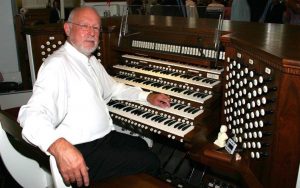 Bruce R. Eicher, the organist at Pikesville's Beth El Congregation for 56 years, passed away June 22 of congestive heart failure.
Former Del. Richard Rynd Dies at 90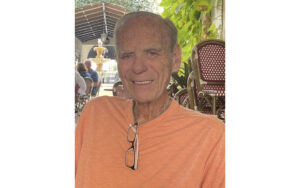 A Democrat, Rynd represented Baltimore County in the Maryland House of Delegates for 16 years.
Community Mourns the Passing of Veteran Caterer Leonard Schleider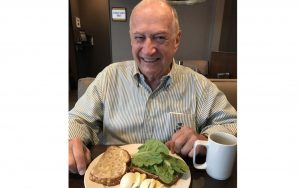 For decades, Schleider was a familiar face in kosher and non-kosher food service circles.
Arnold Charles Rifkin, Former TV Engineer, Photographer and Chef, Dies at 93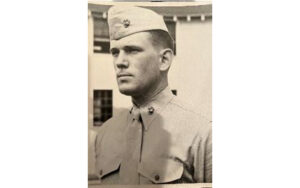 Arnold Charles Rifkin, a former television engineer, photographer and professional chef, passed away at his Pikesville residence on Wednesday, May 4.
The post Local Holocaust Survivor, Cabinet Maker Israel Gruzin Dies at 93 appeared first on marylanddigest.com.