Twenty Baltimore area youths were among the 350 participants from around the globe who traveled to Israel recently for a special seminar as part of the yearlong Diller Teen Fellowship, an immersive leadership program.
The seminar took place from July 4-24. This year's participants came from 16 communities in six countries, including Los Angeles, Miami, Chicago, San Francisco, Philadelphia. Boston, central New Jersey, Pittsburgh, Toronto, Montreal, Melbourne, Johannesburg, Buenos Aires and the United Kingdom. Each community has an Israeli partner community.
After arriving in Israel, the teens traveled around and learned about the country, enjoyed a Shabbaton retreat experience and participated in programming with teens from their Israel-partnership communities (Upper Galilee, Rishon Lezion, Karmiel/Misgav, Beersheva, Haifa and others).
The last part of the Israel seminar is known as "Global Congress," with the international participants gathering with their Israeli teen counterparts for a week of connection, exploration of Jewish peoplehood and shared community service projects.
Throughout the yearlong fellowship, participants take part in workshops where they learn about the diversity of their local Jewish communities and peers; receive hands-on opportunities to lead tikkun olam initiatives, where they learn to lead from a Jewish perspective; participate in local weekend retreats, where they experience Jewish pluralism in action; and make active partnership connections between Israeli and diaspora communities.
Since 1998, the Diller program — established in San Francisco by the Helen Diller Family Foundation — has cultivated new generations of Jewish leaders. Today, there are more than 6,500 Diller alumni internationally.
Participants are Jewish 10th and 11th graders encouraged by their community leaders to take part in the program due to their leadership potential. Participants then become part of the program's international network of Jewish leaders.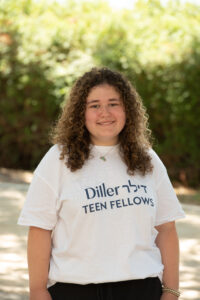 Diller Fellow Lilly Fox (Provided photo)
Among the local Diller fellows was Lilly Fox, 16, who attends Glenelg Country School in Ellicott City.
"Being a Diller Teen Fellow has given me the incredible opportunity to fulfill my dream of going to Israel and exploring my Jewish identity while making lifelong friends," Lilly said. "Walking into this program, I had no idea what to expect and I knew no one in my cohort. Meeting the Ashkelon Fellows [from Baltimore's partner city in Israel] was the most exciting experience. I realized that Jewish identities are multi-faceted and blurs denominational lines.
"There are so many unique leadership styles and each person has the power to make an impact in a positive way. Walking out, I can proudly say that I have a friend to see everywhere I visit in the future," she said. "Diller has not only inspired me, but also given me the necessary tools to change the world. I have absolutely loved this program and am forever grateful to be part of a diverse group of teens who will change the world."
Diana Solomon, senior director of 4Front, a community-wide Jewish teen initiative housed at the Jewish Community Center, said, "4Front is so proud to manage and coordinate the Diller Teen Fellows program in Baltimore, a legacy program for our community that's been here for over 16 years. Teens in this prestigious program have the opportunity to grow as leaders, Jews, and individuals. They get to celebrate and share their differences and feel connected as one global Jewish community. Over the years, we've seen the incredible leadership skills and Jewish pride that is fostered in this program serve as a catalyst to future involvement and engagement. Baltimore Diller alum go on to take leadership roles in Jewish life on campus, work in Jewish fields, and return to Israel numerous times.
"This year was amazing to see the program back in full swing and witness this cohort's recent experience on their Israel Summer Seminar," she said. "It was a transformative experience that allowed the teens to find a sense of belonging with hundreds of diverse Jewish teens from around the world, while also representing Baltimore and our local Jewish community. The incredible relationships this program also cultivates between teens from Baltimore and our sister city of Ashkelon has continued to strengthen our communities' partnership year after year. And after a few years apart, this summer was as magical as ever. 4Front is so grateful to have Diller as a staple program to grow Jewish teen leaders in Baltimore.
Said Jen Smith, executive director of Helen Diller Family Foundation Programs: "At a time when our world can feel more fractured and divided than ever before, Diller Teen Fellows from across the globe are uniting to build understanding, create connections and help repair the world. Diller serves as a foundational year that can impact the lifetime of a teen, as they explore their Jewish identity and the good they want to do in the world as a leader. While the goals, values, and mission of the program unite participants as one global Jewish family, each teen brings their own unique perspective, lived experience and leadership qualities."
You May Also Like Hundreds Gather at Niagara Falls to Celebrate Return of Canadian Jewish Institution
Jews from the former Soviet Union who now live in Canada came together at Niagara Falls earlier this summer for Limmud FSU Canada's first in-person, full-fledged conference since before the pandemic.
Local Teen Athletes Return from JCC Maccabi Games in San Diego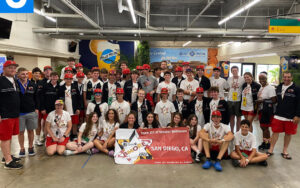 From July 31 to Aug. 5, local teen athletes competed in the 2022 JCC Maccabi Games in San Diego.
European Jewish Buyer Purchases Hitler's Watch for $1.1M, According to Maryland Auction House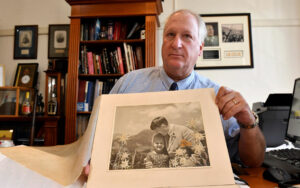 The owner of Chesapeake City's Alexander Historical Auctions has reportedly received death threats recently for selling Nazi memorabilia.
Baltimorean Chanan Weissman to Step Down from Post as White House Liaison to Jewish Community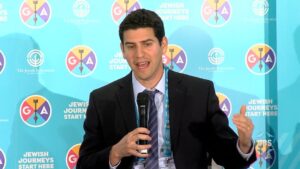 Veteran Jewish organizational leader Shelley Greenspan will succeed the Baltimore native in serving as a conduit to the Biden administration.
The post 20 Baltimore Area Teenagers Participate in Diller Fellowship Seminar in Israel appeared first on marylanddigest.com.